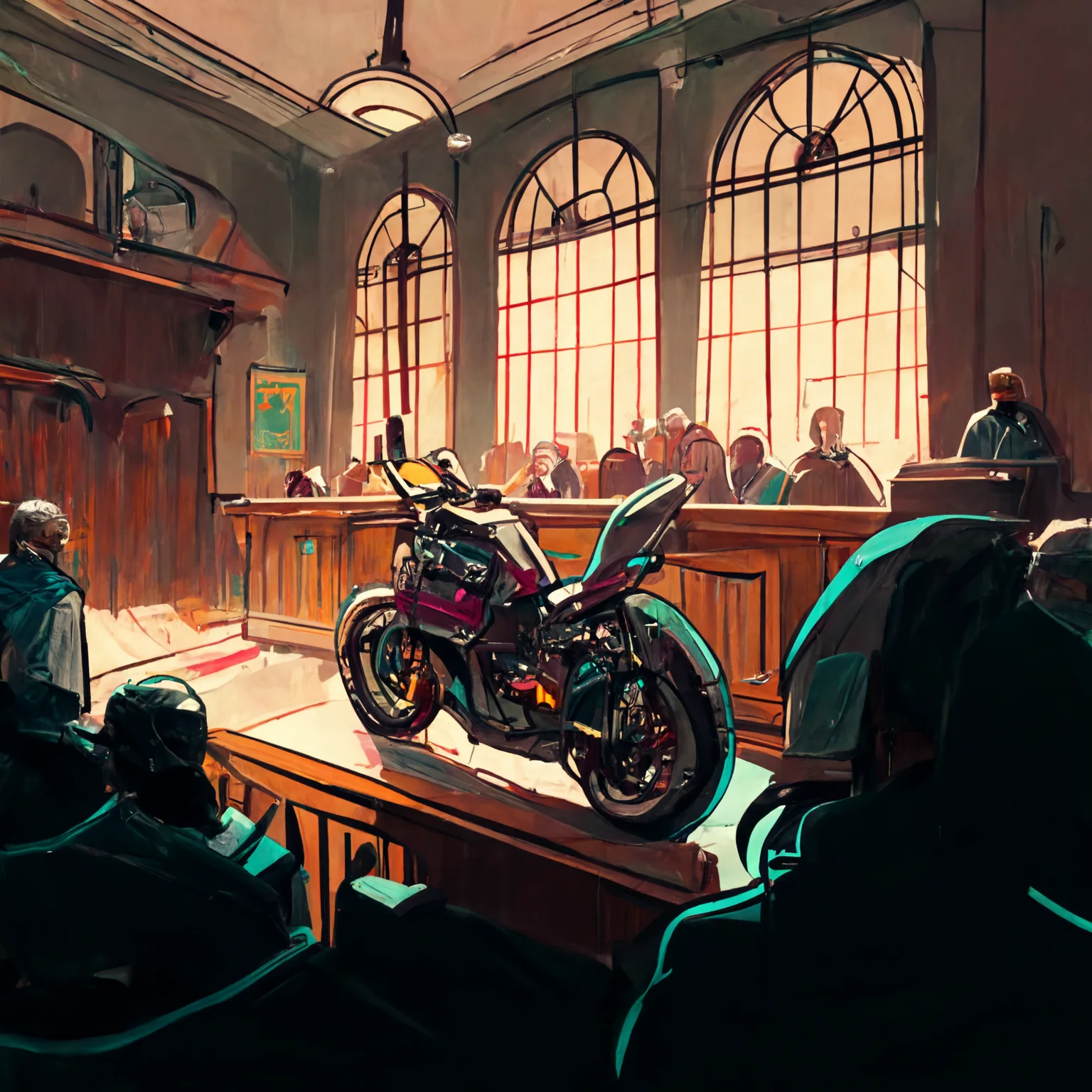 Texas Motorcycle Laws
In Texas, authorities have established certain laws to ensure that motorcyclists remain safe on the road. Unfortunately, other drivers may not be aware of motorcyclists, leading to some accidents. To avoid such occurrences, motorcyclists must remain vigilant and wear a helmet for protection.
Headlights
The law in Texas states that bikes manufactured after 1975 must have the headlight on at all times. Most modern motorcycles switch on the headlight automatically when the ignition is turned on. However, riders need to remember to turn it on manually if the headlight doesn't come on.
Helmets
The Texas Department of Public Safety has mandated that motorcyclists and moped riders wear a helmet, unless they are over 21 and have passed an approved motorcycle operator training course, or have insurance coverage.
Licenses
In order to acquire a motorcycle license in Texas, bikers must first complete a training course given the seal of approval by the Texas Department of Public Safety. Those who have passed the program for a three-wheeled bike will only be allowed to operate trikes. Furthermore, they must pass a written and practical examination. All motorcyclists are required to have a Class M license designation. The same regulation applies to mopeds and motor-driven cycles. Individuals aged 18-24 who do not possess a current driver's license must take an Adult Driver Education course.
For the practical assessment, applicants must bring their own motorcycle and a licensed driver in a car to accompany the examiner. Both the bike and the car must pass an on-site vehicle examination.
Waiver of Road Test
For those aged 18 and above, who have gone through a motorcycle operator training program, and possess an unrestricted Class A, B, or C license, they may submit their proof of completion of a course that satisfies the Motorcycle Safety Foundation's curriculum criteria and the Texas Department of Public Safety will forego the road examination. Test waivers are not available for applicants under 18 years. Drivers under 16 years of age are only accepted to ride bikes with an engine of 250cc or smaller.
Registration and Insurance
In order to be compliant with the regulations, all motorcycles, tricycles, and mopeds must be documented with the County Tax Assessor-Collector in the county where the rider resides. The vehicle must also have an updated registration tag and must be inspected annually at an Approved Motor Vehicle Inspection Station. The inspection certificate must be attached to the back license plate. Furthermore, all bikes, trikes, and mopeds must be insured for operation.
Additional Laws and Rules
Motorcyclists must abide by regulations of the road like any other driver, regardless of their size. This includes not being able to park in a handicapped spot without displaying a disabled license plate or removable windshield ID card. It is also prohibited to block a curb ramp or access area intended for disabled people, as well as parking in the striped areas near handicapped spots or in front of a building's entrance. While ground-effect lighting is allowed, it must be either white or amber and not flash. Furthermore, passengers must be at least 5 years old and all those under 21 must wear a helmet. Motorcycles with more than one seat must have footrests and handholds for each passenger. Texas does not have a law for handlebar height, but ape-hangers should be used cautiously. Furthermore, lane-splitting is not specifically banned, but there are other laws that forbid driving outside of designated zones.
Preparing in Case of a Motorcycle Accident
In order to be prepared for an emergency, it is essential for riders to provide an emergency contact and keep that information accessible to any first responders. If a motorcyclist is ever incapacitated after an accident, they should ask their emergency contact to get in touch with a bike accident attorney right away, even if the authorities claim that they are to blame. Despite the circumstances, an experienced motorcycle accident lawyer may still be able to recover damages for the person who was hurt.
Damages Motorcycle Accident Victims Might Recover
Depending on the given situation, victims of motorcycle accidents may be able to seek compensation for both monetary and punitive damages. Punitive damages can be given by courts in the event that the at-fault party caused the accident through gross negligence, for example driving while impaired or sending text messages. Other forms of compensation that might be available to the victim include coverage for current and future medical bills, lost wages due to the accident, loss of companionship, and pain and suffering. In the case of a fatality, damages related to the wrongful death of a family member may be awarded as well.
What a Client Should Look When Selecting An Attorney
Clients who have been involved in a motorcycle accident want an attorney who is experienced and knowledgeable about the laws and regulations related to motorcycle accidents. They want an attorney who is empathetic to their situation and understands the physical, emotional, and financial impact that a motorcycle accident can have on their lives. Additionally, they want an attorney who is responsive and communicative, keeping them informed throughout the legal process and addressing any concerns or questions they may have. Ultimately, clients trust an attorney who is dedicated to fighting for their rights and securing fair compensation for their damages and losses. Clients want an attorney who is knowledgeable and experienced in handling motorcycle accident cases, as well as someone who is empathetic and understands the challenges that come with recovering from an accident. For example, if a client suffers a severe injury such as a spinal cord injury, they may need ongoing medical treatment, rehabilitation, and may be unable to work. In such cases, a good attorney will not only seek fair compensation for medical expenses, but also for loss of income, pain and suffering, and other damages. Good communication and responsiveness are also important factors that build trust between an attorney and a client. Ultimately, a trusted motorcycle accident attorney will work tirelessly to ensure their client receives the best possible outcome and fair compensation for their damages and losses.
Never Rely on an Insurance Company
Even if the insurance company is willing to fight for you, it's always recommended that you get your own attorney for a motorcycle accident. Insurance companies will try to minimize their payouts as much as they can since they're in the business of making money. So, if you've been in a motorcycle crash, contact a motorcycle accident lawyer right away. If you're not able to do it yourself due to your injuries, have a family member reach out to a legal expert. Get in touch with the Raub Law Firm's team either online or give us a call at 361-880-8181 today.
Motorcycle accidents can occur for a variety of reasons, and some of the most common causes include:
Speeding: Motorcyclists may be tempted to speed, especially on open roads or highways. However, this can lead to loss of control and accidents.
Alcohol or drug use: Motorcyclists who drive under the influence of alcohol or drugs may have impaired judgment and reflexes, making it more likely for them to get into accidents.
Lane splitting: Lane splitting, which is when a motorcycle drives between two lanes of traffic, is legal in some states but can be dangerous, especially if other drivers are not expecting it.
Distracted driving: Distracted driving, such as texting or talking on the phone while riding, can be dangerous and lead to accidents.
Inexperienced riders: Inexperienced riders may be more likely to make mistakes and get into accidents.
Bad weather conditions: Rain, fog, and snow can make roads slippery and decrease visibility, increasing the risk of accidents.
Mechanical failure: Motorcycle accidents can also occur due to mechanical failure, such as faulty brakes or tires.
It's important for all motorcyclists to follow traffic laws, wear appropriate safety gear, and take precautions to minimize the risk of accidents.
There are several motorcycle driving laws in Texas that every rider should know in order to stay safe and avoid legal issues. Some important laws to be aware of include:
Helmet law: Texas requires all motorcycle riders and passengers to wear helmets that meet the safety standards set by the Department of Transportation.
Licensing: To operate a motorcycle in Texas, you must have a Class M motorcycle license or a Class M endorsement on your regular driver's license.
Lane splitting: Lane splitting is illegal in Texas. Motorcyclists must always ride in a full lane and not between two lanes of traffic.
Headlights: Motorcycles must have their headlights on at all times, even during the day, in order to increase visibility to other drivers.
Insurance: Texas requires all drivers to carry liability insurance, which covers any damages or injuries that may result from an accident.
Maximum noise level: There is a maximum noise level for motorcycle exhaust systems in Texas. The noise level cannot exceed 92 decibels when measured at a distance of 20 inches away from the exhaust outlet.
Passenger age: In Texas, passengers on a motorcycle must be at least five years old and must be able to reach the foot pegs or floorboards with their feet.
By following these laws, motorcyclists can help ensure their own safety as well as the safety of other drivers on the road.  Insurance laws related to motorcycle accidents can be complex, and it's important for lawyers who specialize in these cases to have a thorough understanding of the laws in their state. Here are some insurance laws that every motorcycle accident lawyer should know in the state of Texas:
Minimum liability insurance: Texas requires all drivers, including motorcyclists, to carry liability insurance. The minimum coverage required is $30,000 for bodily injury per person, $60,000 for bodily injury per accident, and $25,000 for property damage.
Comparative negligence: Texas follows a comparative negligence rule, which means that fault in an accident can be divided among multiple parties. If the motorcyclist is found to be partially at fault for the accident, their compensation may be reduced in proportion to their degree of fault.
Uninsured/under-insured motorist coverage: While not required, motorcyclists may choose to purchase uninsured/under-insured motorist coverage as part of their insurance policy. This coverage provides additional protection in the event of an accident with a driver who does not have enough insurance to cover damages.
Statute of limitations: In Texas, there is a two-year statute of limitations for personal injury lawsuits related to motorcycle accidents. This means that a lawsuit must be filed within two years of the date of the accident, or the right to sue may be lost.
Mediation and arbitration: In some cases, insurance companies may require mediation or arbitration as a way to resolve disputes related to motorcycle accidents. Lawyers should be familiar with the rules and procedures for these alternative dispute resolution methods.
Types of Cases That May Involve Motorcycle Accidents in Texas
Personal Injury Claims: When a motorcyclist is involved in an accident, they may suffer serious injuries, such as broken bones, spinal cord injuries, or traumatic brain injuries. In such cases, the injured party may file a personal injury claim against the at-fault driver or their insurance company to seek compensation for their medical bills, lost wages, pain and suffering, and other damages.
Wrongful Death Claims: In some cases, motorcycle accidents can result in the death of the rider or passenger. When this occurs, the victim's family may file a wrongful death claim against the at-fault driver or their insurance company to seek compensation for their loved one's medical bills, funeral expenses, lost income, and other damages.
Insurance Disputes: Insurance companies may deny or undervalue claims made by motorcyclists who are involved in accidents. In such cases, an attorney may help the injured party dispute the insurance company's decision and negotiate a fair settlement.
Product Liability Claims: Motorcycle accidents may also be caused by defects in the motorcycle itself, such as faulty brakes or a defective fuel system. In such cases, the injured party may file a product liability claim against the manufacturer, distributor, or seller of the motorcycle or its parts.
It's important to note that each case is unique, and the specific legal issues involved will depend on the individual circumstances of the accident. If you are involved in a motorcycle accident in Texas, it's important to consult with an experienced attorney who can help you understand your legal options and rights.